Anansi offers a playground with a variety of equipment and surfaces for students to build skills, think creatively, and challenge themselves. The playground includes swings, a multi-purpose play structure, a climbing wall, monkey bars, two basketball courts, a tree fort, tether ball, soccer field, track, and fitness stations.

Cathleen Tomlinson Library and Computer Labs
The facility is divided between the primary, intermediate, and middle school grades, there is a centrally located library to meet the needs, reading levels, and interests of all grade levels. There are over 5,000 fiction and non-fiction titles and reference materials as well as magazines for the variety of grade levels. There is a computer lab within the library for student use and a projector for multi-media presentations. Each classroom is equipped in grade Kindergarten through second grade with a computer for every two students, and in third through eighth grade classrooms there is a computer for every student.
Multi-Purpose Room
The school has a beautiful multi-purpose room with large windows and doors that open to a large portal and beautifully landscaped lawn. This space serves as a cafeteria, art room, and movement/dance performance space.
Science Lab
The school offers a fully equipped science laboratory where hands on science experimentation in chemistry, physics, biology and other life sciences is taught in a student centered environment for grades 6-8.  Elementary science curriculum is taught in the self-contained classrooms for each of the grade levels (K-5).
Overall Campus
The Anansi Charter school is nestled below the dramatic Sangre de Cristo Mountains in a rural pastoral setting. The campus sits back from the road and is surrounded by pastures and low lying adobe structures in residential area north of Taos. There is a primary grade facility that contains the kindergarten through second grade classrooms, the special education spaces, primary grade library, multi-purpose room and administrative offices. It is connected to the intermediate grade facility by a sidewalk that leads students through landscaped yards and the playground. The intermediate grade facility then houses the third through fifth grade students along with a library and computer lab. A wrap around portal leads into a courtyard and children's garden where students enjoy an outdoor work space. The separation is intentional so that the unique needs and maturational difference between the ages can be nurtured.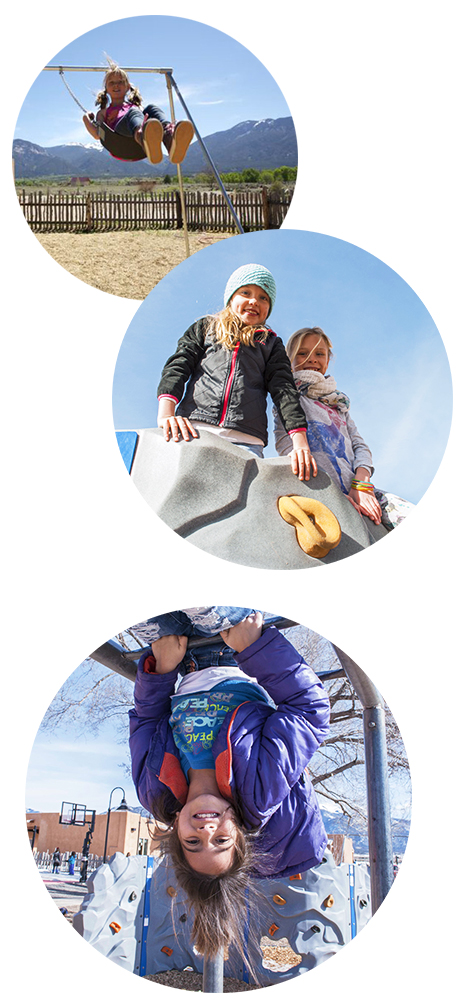 MORE ABOUT OUR CLASSROOMS
All classrooms are equipped with a variety of instructional mainpulatives, classroom libraries, computers, sinks and counters, and bathrooms. Read More…
Anansi has developed a research-based fully aligned curriculum that has been recognized and accepted by the New Mexico Public Education Department. The Anansi Curriculum provides instructional strategies and developmentally appropriate activities that support
student learning. Read More…